Welcome to the official Safe Places webpage
The Safe Places initiative has been developed in collaboration between Tonic Health, Cllr Jack Mclean and Vanessa Browning, and has received funding through the Managed Care Network. The funding will provide two different projects:
1. A weekly Safe Place Meeting Group, every Tuesday, 430-6pm @ Tonic Health - a peer led group suitable for anyone with mental ill health. There will be a combination of activities and speakers with refreshments to keep you going! A second meeting group is running from Ayscoughfee Hall every other Saturday 11am to 3pm.
2. Safe Places Business Awareness Training - this will be a series of 3 hour information sessions offering advice and guidance around mental ill health. Employers are encouraged to attend to help not just their own employees, but also for the benefit of their customers. Businesses attending the session will be listed here, and will display our Safe Places logo in their windows, so if you are struggling, and need somewhere to go, look out for our logo and know that you can call in and receive some support. The next session will be a suicide awareness session, on Tuesday 1st April at 8am.
For the latest information and updates, visit the Safe Places Facebook page.
Safe Places - Businesses and Organisations:
The following businesses and organisations have undertaken the initial three-hour awareness session:
Asycoughfee Hall Museum and Gardens
P3
Spalding Police
Lincolnshire Community Voluntary Services
Johnson hospital welland ward
Spalding Job centre
South Holland District Council
Department of Work and Pensions,
Rookery Farms Packing Ltd
Tonic Health
Emma Barker Medical Herbalist
Lincolnshire Suicide SAFE (Supporting Awareness For Everyone)
More information can be found at www.lpft.nhs.uk/suicidesafe
The Safe Places meeting group have applied for the Suicide SAFE toolkit, which will be readily available for attendees to look at/use.
Get the free Mental Health & Debt guide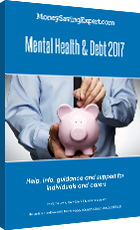 This is a free 44-page PDF booklet supported by Mind, Rethink, CAPUK and others, for people with mental health problems and those caring for them.
It covers how to handle debts when unwell, work with banks, free debt counselling, specific tips for bipolar disorder or depression sufferers, whether to declare a condition and more.
http://www.moneysavingexpert.com/credit-cards/mental-health-guide
Children In Needs emergency assistance fund / grant.
It can provide grants for essential household items for vulnerable children and their families
An extract from their website states: " we can provide swift, direct financial support of up to around £300 for families or young people living in crisis". There are thousands of children throughout the UK who do not have their own bed to sleep in, or live in a house without a cooker. Providing basic household items, such as a bed or white goods, gives them things that most of us take for granted, but it also means the family does not have to take on more debt. An appliance we buy for around £250, may cost a family nearer £1,000 if they have to buy it using a payday loan or rent-to-buy company.
http://www.buttleuk.org/areas-of-focus/emergency-essentials
In the news....
Top: Spalding Guardian, Friday 2nd September 2016
Bottom: Spalding Voice, Wednesday 31st August 2016
Watch out for the logo!